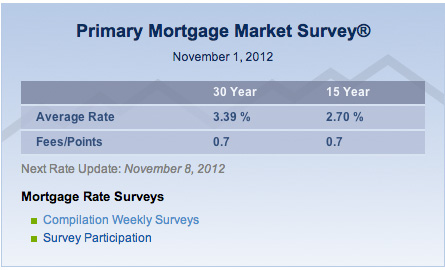 The Primary Mortgage Market Survey® (PMMS) revealed on November 1st by Freddie Mac shows continued lowered interest rates, dipping below last week's rates. This is good news if you are a home owner hoping to sell your home.
Combining those low rates with news of Freddie Mac's announcement that delegation agreements have been signed with mortgage insurance companies allowing Freddie Mac servicers to approve short sales more easily, may create even more sales than expected in the coming winter months and keep homes at risk of foreclosure available to home buyers, too.
Senior Vice President of Servicing and REO at Freddie Mac, Tracy Mooney, is excited about the news as it will allow distressed buyers to avoid foreclosure by making short sales a reasonable alternative. "We applaud the nation's mortgage insurers for committing to work with us and our servicers to help more borrowers obtain short sales and other foreclosure alternatives," she said. "By paving the way for more borrowers to avoid foreclosure, today's announcement will support the housing recovery and help reduce taxpayer losses."
Eligible buyers can currently lock in rates averaging 3.39% (.7 points) on a 30 year fixed rate mortgage or a 2.70% (.7 points) on a 15 year fixed rate loan as reported in the PMMS. The 5-year Treasury-indexed hybrid adjustable rates averaged 2.74% (.6 points) and the 1-year Treasury-indexed adjustable rates logged in at 2.58% (.4 points), showing consistent downward trends across the board.
If you are a home owner looking for a way to avoid foreclosure and are interested in a short sale, now is the time to sell your home. Contact me to discuss the new options made available with these announcements. I'd like to help in any way I can.  To find out more about the Freddie Mac announcement on short sales, click here.