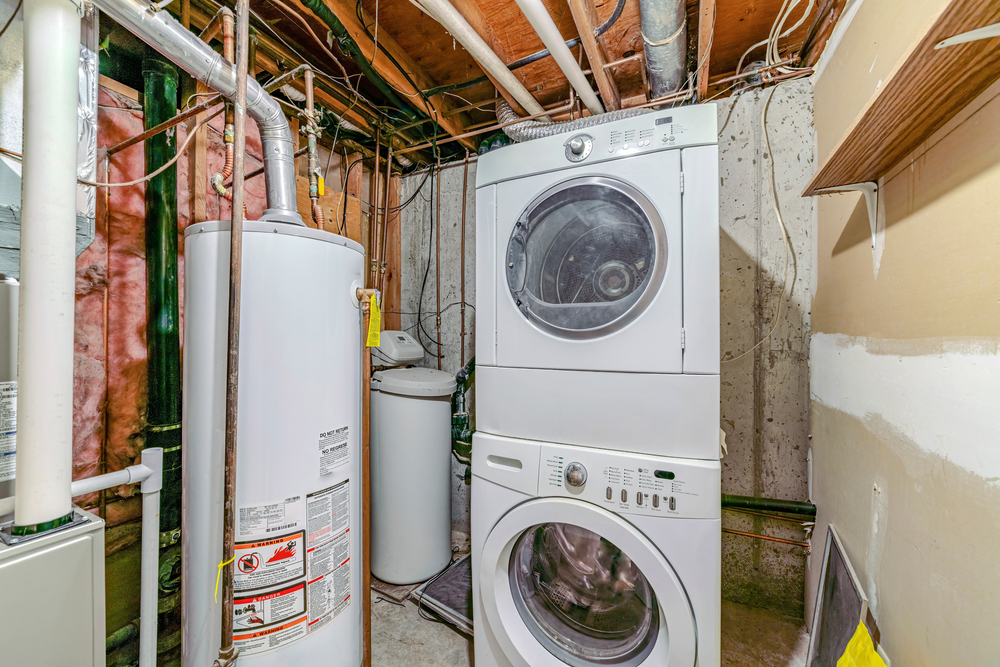 Do you dread heading into your unfinished basement to do a load of laundry? It's already hard enough to keep on top of your laundry without having to tackle it in a dreary environment. The good news is that it doesn't have to be such a miserable experience. Here are some easy ways to update your basement laundry room so that doing laundry isn't such a chore.
Paint the floor and add a rug
One of the easiest things you can do to add a little cheer to your basement laundry room is to paint the floor. It's much easier to paint a concrete floor than to install tile or linoleum. First, clean the concrete and repair cracks. Then use paint that is specially formulated for concrete. Once it's dry, add a cute throw rug for a pop of color. The throw rug will also add a bit of cushion, which your knees and back will thank you for.
Paint the ceiling
Another way that you can conquer the dreariness of your basement laundry room is to paint the ceiling. Most likely, your basement has an unfinished ceiling with exposed floor joists. Do not fear – you can paint them! Choose a color that matches the floor, or opt for something contrasting to give the room a little more energy.
Paint or decorate the walls
Next, think about adding a little personality to the walls in your basement laundry room. One easy way to do this is to add paint to cheer up the room. But if that sounds like a daunting task, you can simply decorate the walls. Hang signs, add a framed photo you love or even hang bunting for a little pick-me-up while you wash.
Upgrade the lighting
Chances are your basement laundry room has terrible lighting. Nobody likes to labor under fluorescent lights – they can suck all the joy out of a room. So if you want to conquer your basement laundry room, upgrade your lighting. You can simply swap out the fluorescent bulb for one in a warm white instead. Or you can hang cute lighting fixtures from the ceiling by attaching them to the floor joists. Or do it the cheap and cheerful way by hanging some simple string lights across the room.
Add a folding table
It's helpful to have a place to fold clean laundry when you take it out of the dryer. Having a large flat surface to fold and stack makes your laundry chores that much easier. You can simply use a folding card table if that's what you have on hand. Brighten it up with a cute tablecloth. Or invest in a utility table that has built-in shelves so you can use it for storage, too.
Install pegboard
Finally, add simple storage to your basement laundry room by installing a pegboard. It's easy to install pegboard on unfinished basement walls. Then you can paint the pegboard a pleasing color and use it to hang baskets, an ironing board, or even decorations.
Compliments of Virtual Results